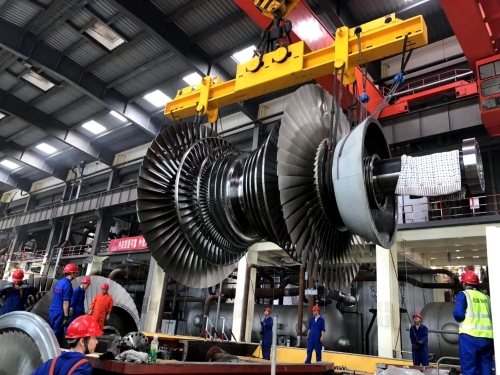 On July 17th, in Datang Dongying 2×1000MW project built by SEPCO1, the Box Up of Unit #2 steam generator set, with one of the first six-cylinder six-exhaust steam turbines in the world, has been successfully completed.
The steam turbine applied to Unit #2 in this project is designed and manufactured by Shanghai Electric Group Company Limited. It features ultra-supercritical, six-cylinder six- exhaust steam, double-reheat, single shaft and condensing type and figures into the first six-cylinder six-exhaust steam turbines in the world. Compared with double reheat million-kilowatt units of the same kind, its complete shafting extents five meters longer, involving higher installation technical requirement at site.
The project department attached great importance to the Box Up work which is the most significant quality control point prior to the operation of steam turbine. Electric power engineering team in the project department planned in advance and studied carefully to formulate a special construction scheme basing on the characteristics of such kind of steam turbine. And they have done technical disclosure regarding each construction step in detail. In the process of Box Up, stuff from each professions with orderly division of work have worked together effectively. Specific workers has been dispatched to inspect and sweep all the key parts to ensure that each witness point for quality verification and acceptance was controllable and under control. With the joint witness of the Owner and the supervisor, the construction crew with unity of purpose and effort as well as their unremitting fights have completed all the working procedures and achieved one-time acceptance. This one more time shows through the advanced management and consummate skills the strength of the "iron army": achieve excellent work one time and be always at his best.