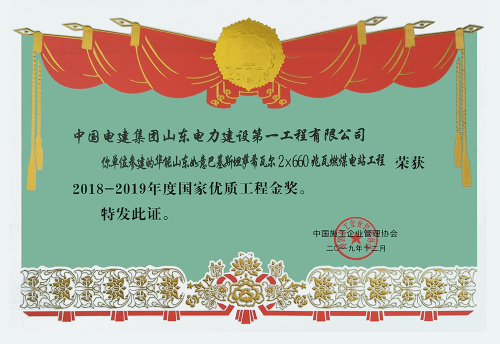 2018-2019 National Conclusion and Commendation Conference of High-quality Project Awards was held at National Conference Center on December,8th. SEPCO1 was invited to participate this conference, winning one national high-quality project gold medal and five national high-quality project awards.
Among them, Pakistan Sahiwal 2x660MW coal-fired power plant, which is constructed by SEPCO1, won the National High-quality Project Gold Medal, which symbolizs the highest honor in project construction sector. Further, five projects, constructed by SPECO1, won 2018-2019 National High-quality Project Awards. They are Hami Power Plant 4×660MW Unit Project of State Grid Energy Hami Coal and Power Plant Co., Ltd., "Developing Large Unit, Stopping and Closing Small Unit Project ("DLUSACSUP")" of Qinghai Xining Thermal Power Plant(a green-field project), DLUSACSUP of Datang Binzhou 2×350MW Unit CHP (a green field project), DLUSACSUP of 1000MW unit of Huaneng Laiwu Power Plant ( an expansion project) , and DLUSACSUP of Shandong Datang Linqing Thermal Power Plant ( a green field project) respectively.

It is reported that the National High-quality Project Award was set up in 1981, which is a national-level honor established earliest, ranked highest, covering different sectors and professions in term of China's project construction quality. This award is, being the leading role and model of construction industry, a banner of demonstrating the great achievement of project construction.