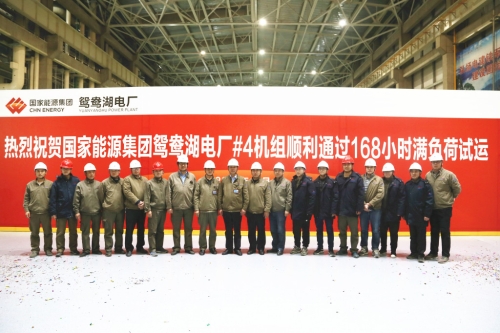 At 23:58 on December 7th , #4 Unit of Yuanyang Lake Phase II 2x1000MW Power Plant Expansion Project completed 168 hours' trail run with full load. This unit is among the first batch of 1000MW indirect air-cooling units, and also the world's largest indirect air cooling high efficient ultra-supercritical unit. All the systems are running smoothly with sound parameters. The load rate, automatic control and instrument protection service rates are 100%. The emission of suspended particles of flue gas, carbon dioxide and nitrogen oxide achieves ultra-low emission standard of the country.
In the process of construction, #4 unit has achieved the 8 successes, i.e boiler hydro-test, turbine box-up, DCS energizing, auxiliary power system energizing, boiler light-up, turbine rolling, unit synchronization and 168 hours' trial run. The shaft vibration of the turbine is less than 60μm. The bearing-pad vibration is less than 25μm. There is no leakage at the 78,320 welding joints on the heating surface of the boiler. Behind all these excellent parameters are the delicate refinement of quality pursued by the Iron Army of electric power construction.

When #4 Unit of Yuanyang Lake Power Plant is officially put into operation, the total installed capacity of the power plant will reach 3,520MW, making it the largest thermal power plant in Northwest China. This power plant will play a positive role in improving regional power consumption, implementing national energy conservation and emission reduction policies, and promoting local economic development.