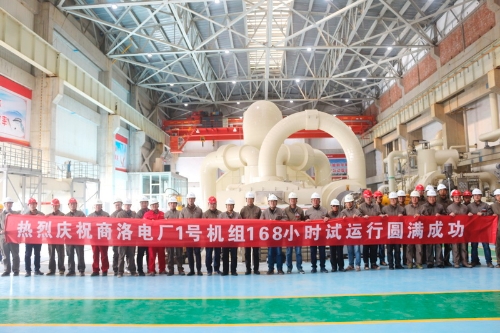 At 10:59 on November 28th, Unit 1 of 2 x 660MW SIGC Shangluo Power Generation Co., Ltd, which was constructed by SEPCO1, successfully completed 168-hour trial operation with excellent operation indicators and good operation status.
Since the start of the project, Shangluo project has actively implemented the execution concept of "balanced green construction, creating double excellent projects", with the goal of creating "five-good" projects, and vigorously promoted the iron army spirit of "electric power construction iron army, innovation and transcendence". The project team has overcome the difficulties such as delayed hand-over of civil work fronts for mechanical installation, delayed availability of equipment, design changes etc. It took only 28 days from cable-laying to back-charging. The seven critical activities, i.e. boiler hydro test, turbine boxing-up, back-charging, light-up & steam-blowing, turbine rolling, synchronization, 168-hour trail operation have been successfully done without any failure. During the trial run of the unit, the automatic input rate is 100%, the instrument input rate is 100%, and the protection input rate is 100%.The quality of steam and water is qualified. The environmental protection index is qualified and meets the ultra-low emission standard. The vibration index of the unit is good.

Shangluo Power Plant is the first project built and put into operation by SEPCO1 for SIGC. It is the largest thermal power project in Southern Shaanxi province and the 660MW ultra-supercritical thermal power unit with the highest efficiency and the most complete environmental protection facilities in China. It is also the "warm heart" project that Shangluo people have been looking forward to for a long time. The smooth operation of the project has established a good corporate image for SEPCO1 in SIGC and surrounding areas of Shaanxi, and laid a solid foundation for the subsequent market development.