SEPCO1 Held the Meeting of Safety-production Month and Kick-off Meeting of Three-year Safety Special Rectification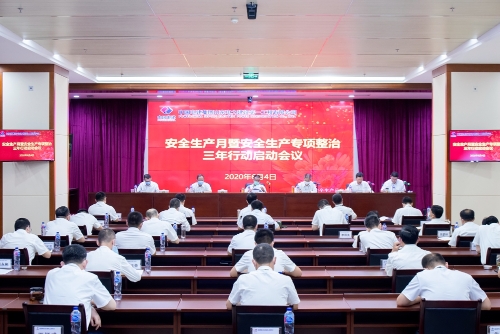 Full-view of the Meeting
On the morning of June 4th, the company's meeting of safety production month and kick-off meeting of Three-year Safety Special Rectification was held in the conference room on the 24th floor of the headquarter. There are 42 participants in the main venue and a total of 192 sub-venues. A total of 466 participants from overseas offices, branches, team members and departments of domestic and foreign projects have attended the meeting in the sub-venues.
At the meeting, the company's Notice on the Implementation of 2020 Production Safety Month Activities was promulgated, and the theme of this year's production safety month activities was clearly defined as "eliminating potential accidents, strengthening safety defense line", and specific deployment was made for the company's production safety month activities from three stages and seven aspects. The production safety month activities were officially launched.
The company's safety production rectification action plan for three years was formulated and explained with respect of the general structure, main contents, main tasks, scheduling and safeguard measures, focusing on two themes, ten special governances and forty eight work tasks.
The secretary of the Party Committee of the company/chairman of the board gave us a safety open class entitled "Grasp the grassroots, build the foundation and rectify the weak points to comprehensively improve the company's essential safety management level". During the class, he deeply analyzed the internal and external situation faced by the company safety production in connection with the seven aspects of the implementation of the safety responsibility system, improvement and execution of safety system, weaknesses of safety management, safety technical management, establishment of double prevention system, HSE information construction and handling of catastrophic weather. He required all the units of the company to further improve safety awareness and concept, system construction, management means and manner. We shall eliminate the hidden danger and enhance safety defense through the special production safety month activities and the three-year special rectification. We shall be determined to focus on the grassroots, lay the foundation, mitigate the weaknesses, improve the strength and implement the safety system. We will thoroughly eliminate bottlenecks that do not adapt to the development of production safety in the new era, comprehensively improve the company's essential safety management level, and guarantee the company's sustainable, healthy and high-quality development.