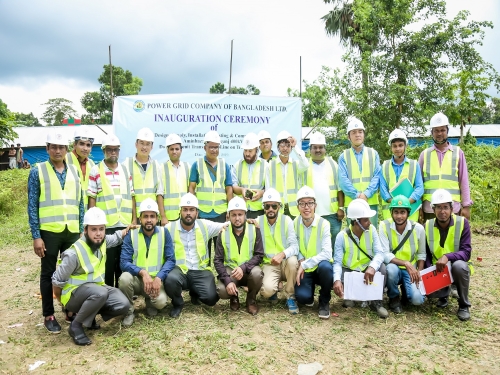 The construction of the Aminbazar-Gopalganj 400kV Transmission Line Project kicked off officially on August 3rd (local time).
According to local customs, the Project Department arranged a simple yet meaningful ceremony for starting construction. The Project Manager presented fresh flowers symbolizing good luck, sincerity and friendliness, to the Akhunds from a mosque and the PGCB Project Manager who were invited to attend the commencement ceremony. Then he, together with these guests, planted a "symbol tree", calling on all staffs of this project to practice the concept of green, environmental protection, and sustainable development in the process of construction, so as to build an environmentally-friendly project with green and balanced construction.

Subsequently, the relevant person in charge of project supervision and the staffs of this Project Department conducted a thorough inspection for the raw materials in site, the positioning of tower foundation, production of reinforcement cage, construction equipment, etc. As the piling machines started, a thunderous applause burst out from the site personnel, and the construction of this project kicked off officially.

It is reported that the Aminbazar-Gopalganj 400kV transmission line project is the first ACCC (Aluminum Conductor Composite Core) transmission line project with high voltage and large capacity built in Bangladesh. After completion, this project will form a major power transmission artery that runs through central Bangladesh, effectively relieve the power supply shortage in Dhaka, the capital of Bangladesh, and promote the construction of 400kV main network of Bangladesh, thus better meeting the electricity demand of local people.