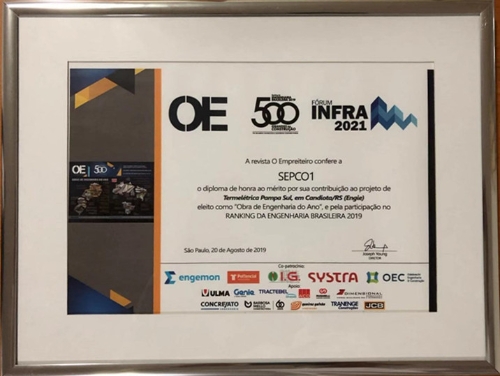 Brazil's top 500 projects under construction in 2019 were recently selected in Sao Paulo. PAMPA project was honored on the list. As the builder of PAMPA project, SEPCO1 received the Outstanding Project Construction Award.
PAMPA project in Brazil, the largest coal-fired power plant in southern Brazil, completed the Reliability Test Run (RTR) on June 20, 2019 successfully. During the RTR, the load rate of the power generating unit is 99.9%, electric protection relay service rate 100%, C&I automation service rate 98%, and electrical automation and instrumentation service rate 100% . The flue gas on-line monitoring system (CEMS) is successfully calibrated by the third party. The unit is running smoothly with normal performance indicators. There are neither any safety accidents nor any trips due to the malfunction of relays up to now. The senior management team of the Owner, ENGIE group, highly appreciates the excellent performance of the unit.

The selection of outstanding projects was organized by O Empreiteiro, the major and authority construction news media in Brazil. This time, SEPCO1 won the Outstanding Project Construction Award, which once again demonstrates SEPCO1's enterprise strength and brand influence, and will strongly promote the subsequent business development in Brazil and Latin America.