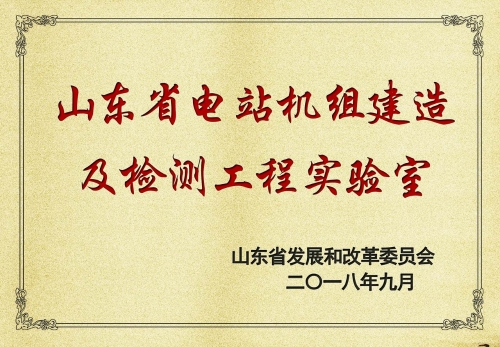 Recently, it is learnt from the Development and Reform Commission of Shandong Province that the Shandong Province Construction and Testing Engineering Laboratory of Power Station Units applied by SEPCO1 has received official approval.
The provincial development and reform commission is the recommending unit of the national enterprise technology center and the principal accreditation authority of the provincial top 100 innovative enterprises. The Engineering Laboratory of Shandong Province ,as a research and development entity, is accredited by the Development and Reform Commission in accordance with the relevant national procedures for the purpose of strengthening the ability of regional industry innovation, speeding up to promote our province economic development mode and structural adjustment, directing funds to the key areas supported by government and superior enterprises, promoting the co-development of national science and technology innovation system along with the superior enterprises.
The Engineering Laboratory of Shandong Province has been successfully accredited and will provide strong support for SEPCO1 to drive innovation, transformation and upgrading, improve quality and efficiency, and boost the development upsurge of the company to serve the transformation of old and new kinetic energy of Shandong Province in the process of high-quality development. SEPCO1 will rely on engineering laboratory, focus on the traditional power industry cutting-edge technology and the strategic emerging business, continue to strengthen the in-depth fusion of production, academics and research, put efforts to expand the upstream and downstream industry chain, actively undertake national and provincial scientific research tasks, carry out research and study for the core technology, key technology, standards, personnel training, achievement transformation etc. which are supported by government and required by the transformation of our company.