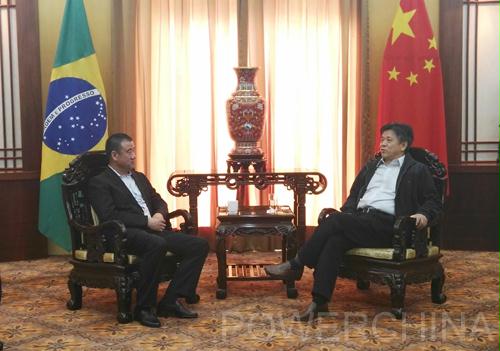 On the morning of June 7th local time, Mr. Wang Shoumin, Chairman and Secretary of CPC Committee of SEPCO1, accompanied by Mr. Chen Weidong, Director and some other staff, visited Mr. Li Jinzhang, ambassador of extraordinary and plenipotentiary to Brazil in Brasilia, where friendly communication was held between both sides.
During the visit, Mr. Wang expressed his appreciation for the support and assistance offered by the honorable ambassador in the course of project implementation undertaken by SEPCO1 in Brazil. Besides, he made an introduction about the company's overseas business distribution, in particular the business conditions developed in Brazil. SEPCO1 will constantly promote the working policy of "striving for expanding the market in Brazil and offering service with high quality for America", stand still on local power energy business, exploit market positively in new fields and make contributions to economic development of both China and Brazil through building high quality projects, Mr. Wang said.
Mr. Li Jinzhang indicated that BELO MONTE EHV transmission Phase I project undertaken by SEPCO1, a project completed ahead of schedule, presented a favorable image of Chinese company in Brazil. Strategic partnership has already been established between China and many Latin American countries, involving huge development potential in marketing. He hopes that SEPCO1 can seize the opportunity, handle the local relationship discreetly, implement the projects faithfully, thus to contribute to the promotion of the belt and road initiative. The embassy in Brazil will offer support and assistance to China-invested enterprise in Brazil, he also said.